Jan Bieser: "Targeted actions by companies and co-workers are required to realize energy savings through co-working"
Jan Bieser's research focuses the on effects of digitalization on individual time use and the environment. In 2019, he visited Mistra SAMS, conducted research in the Living Lab in Tullinge. After his visit, he has co-written two papers with other Mistra SAMS researchers. He has recently submitted his dissertation, which included those papers.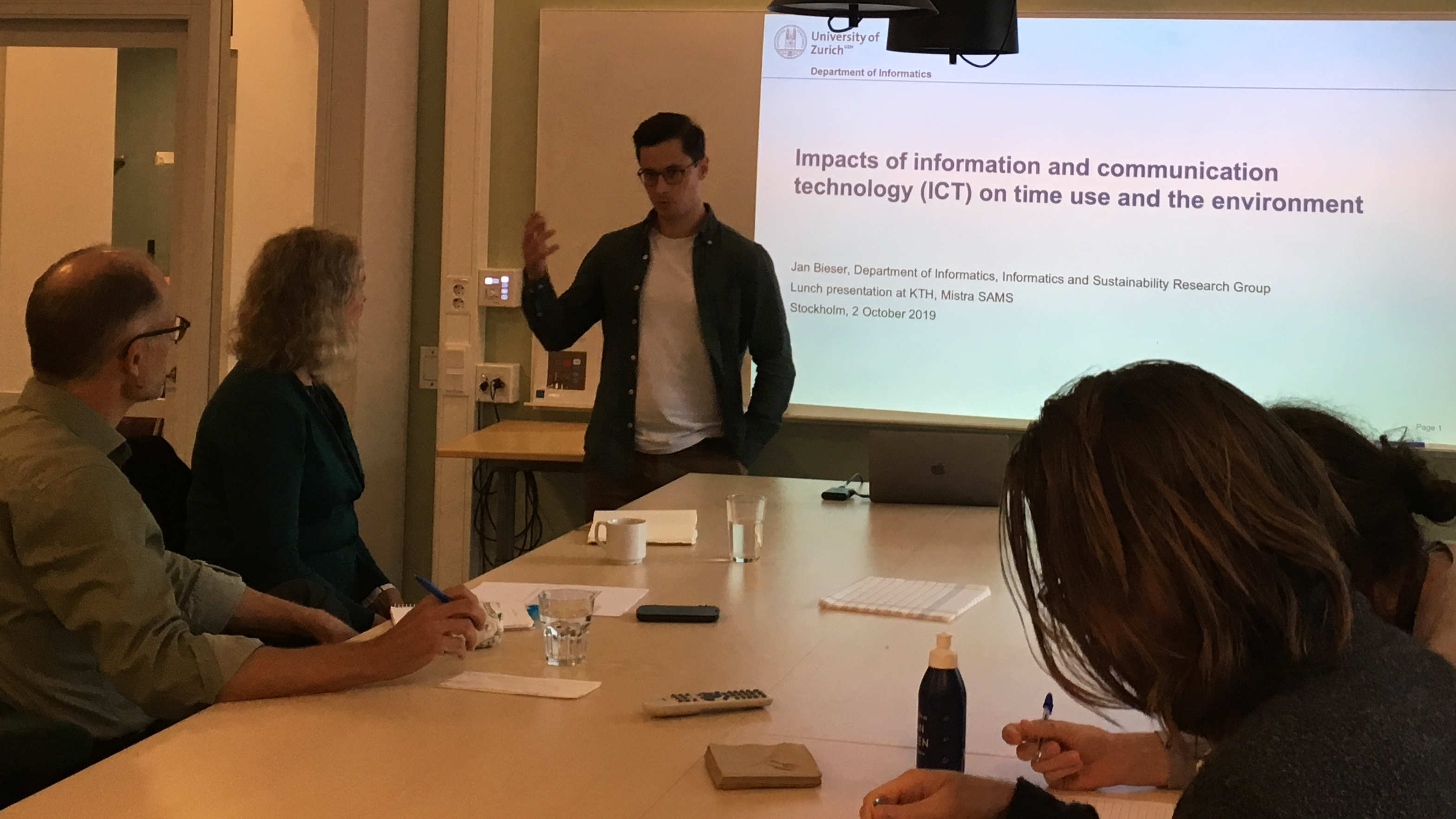 – At the University of Zürich I'm in a research group called Informatics and Sustainability Research. We are interested in ICT impacts on the environment. For example, how does ICT change our work and transport patterns, and what are the environmental consequences? We look at both, opportunities and risks of ICT for environmental protection.
Information and Communication Technology (ICT) solutions save time for many of us, especially travel time, so then the question is: what do we do with the time that it saved? Every activity has an environmental impact and there might be a rebound effect in terms of time-use. Jan Bieser and his colleagues are studying how ICT solutions like telecommuting can contribute to lower environmental impacts from a time-use perspective.
– The fact that a large number of employees can work from home during the COVID-19 pandemic is an impressive example of the social benefits of flexible work models. However, whether telecommuting brings about energy savings depends largely on telecommuting-induced changes to: (1) telecommuters' time spent in transport and use of transport modes, (2) space requirements at all work locations (employer office, co-working space, and home office space) and (3) substitute travel and non-travel activities, goods, and services and their energy impacts.
Jan Bieser's research shows that telecommuting doesn't necessarily lead to energy savings in and of itself, but should be accompanied by additional energy saving measures.
– Organizations adopting telecommuting or providing telecommuting services (in particular co-working space providers) should advise telecommuters concerning their preferences regarding work location and transport modes. All stakeholders should work together to reduce the total office space required. Then, telecommuting can be a viable way to reduce environmental impacts of work, relieve pressure on transport systems, and increase well-being. However, if energy-saving measures are not taken, additional energy required for space heating and cooling, possible changes in transport modes used, and time and income rebound effects can compensate, or even overcompensate, for commute-related energy savings.
Jan Bieser visited Stockholm in the fall of 2019 and participated in the research being done at Mistra SAMS living lab in Tullinge .
– I had some contacts with researchers from Mistra SAMS already before. For example, I got to know Mattias Höjer and Anna Kramers at the ICT for Sustainability conference series. I was very interested in the co-working living lab of Mistra SAMS, because it allows to investigate behavioral changes of workers, before and after working from the co-working space, in a real-life setting. Publicly available time-use data only allows to compare different individuals with different commute and work patterns, but not the same persons before and after their work place changes. So being able to do that through the living lab has been very useful!
Jan Bieser has written two papers together with Mistra SAMS researchers:
B. Vaddadi, J. Bieser, J. Pohl, A. Kramers: Towards a conceptual framework of direct and indirect environmental effects of co-working. (In Proceedings of ICT4S 2020 – 7th International Conference on ICT for Sustainability)
J. Bieser, B. Vaddadi, A. Kramers, M. Höjer, L. Hilty: Impacts of telecommuting on time use, travel and energy: A case study of co-working in Stockholm.
Jan Bieser will present his research at this year's ICT4S-conference .
More research by Jan Bieser can be found at the University of Zürich website .